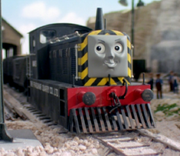 Mavis is a female Diesel.
Appearences
Edit
Season 1 - Mavis and the Lorry and Fire Engine (mentioned)
Season 2 - Toby's Megatrain (does not speak)
Season 4 - Light Work (cameo) and Diesel's Big Idea (does not speak)
Season 5 - Rusty to the Rescue (cameo)
Season 6 - Oliver in Charge and Resource and Sagacity (cameo)
Season 7 - Mountain Engine (cameo)

Mavis will be be appearing in Season 10.
Ad blocker interference detected!
Wikia is a free-to-use site that makes money from advertising. We have a modified experience for viewers using ad blockers

Wikia is not accessible if you've made further modifications. Remove the custom ad blocker rule(s) and the page will load as expected.