James and the Bootlace is the third episode of the eighth season.
James and the Bootlace



Railway Series Book

James the Red Engine

Previous Episode

Next episode
One morning, The Fat Controller warns James that if he doesn't behave, he will have his red coat taken away and be painted blue as a punishment. James did not want that to happen at all. Rather than keeping calm, James gets very angry and bumps his coaches while bringing them to the station, grumbling that he should not have to fetch them himself. To make matters worse, none of the passengers dare go near James, which makes him even crosser.
Characters
Edit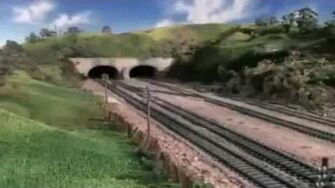 Ad blocker interference detected!
Wikia is a free-to-use site that makes money from advertising. We have a modified experience for viewers using ad blockers

Wikia is not accessible if you've made further modifications. Remove the custom ad blocker rule(s) and the page will load as expected.