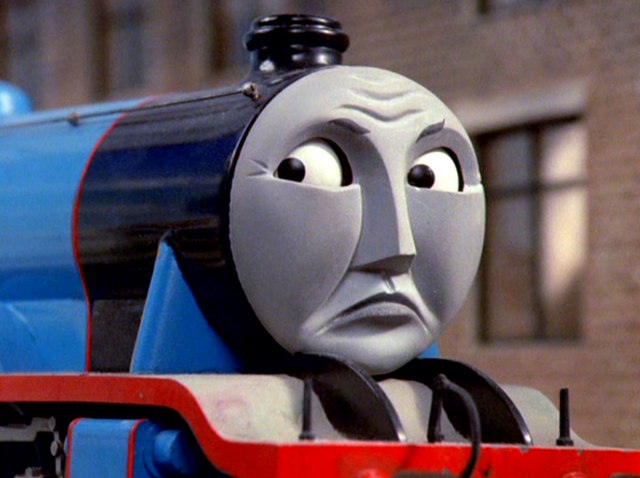 There is no description yet. Add a description.
Appears on these pages

of
Fire Escape is the sixth episode of the first season. Gordon, trying to make amends, is rushing...

High-Speed Gordon is the seventh episode of the first season. Donald told the engines about...

Smokescreen is the very first episode of the Railway Series. One day, Gordon was feeling stuffed...
File history
Click on a date/time to view the file as it appeared at that time.
Date/Time
Thumbnail
Dimensions
User
Comment
current
12:15, February 11, 2018
770 × 575

(730 KB)

Thomas bobo (wall | contribs)
Reverted to version as of 06:39, July 26, 2017
21:51, December 13, 2017
770 × 575

(730 KB)

Gursi (wall | contribs)
06:39, July 26, 2017
770 × 575

(730 KB)

Thomas bobo (wall | contribs)
Reverted to version as of 01:15, January 17, 2017
06:39, July 26, 2017
770 × 575

(730 KB)

Thomas bobo (wall | contribs)
Reverted to version as of 01:15, January 17, 2017
06:39, July 26, 2017
770 × 575

(730 KB)

Thomas bobo (wall | contribs)
Reverted to version as of 01:15, January 17, 2017
06:39, July 26, 2017
770 × 575

(730 KB)

Thomas bobo (wall | contribs)
Reverted to version as of 01:15, January 17, 2017
06:39, July 26, 2017
770 × 575

(730 KB)

Thomas bobo (wall | contribs)
Reverted to version as of 01:15, January 17, 2017
06:39, July 26, 2017
770 × 575

(730 KB)

Thomas bobo (wall | contribs)
Reverted to version as of 01:15, January 17, 2017
06:38, July 26, 2017
770 × 575

(730 KB)

Thomas bobo (wall | contribs)
Reverted to version as of 01:15, January 17, 2017
06:38, July 26, 2017
770 × 575

(730 KB)

Thomas bobo (wall | contribs)
Reverted to version as of 01:15, January 17, 2017
06:38, July 26, 2017
770 × 575

(730 KB)

Thomas bobo (wall | contribs)
Reverted to version as of 01:15, January 17, 2017
06:38, July 26, 2017
770 × 575

(730 KB)

Thomas bobo (wall | contribs)
Reverted to version as of 01:15, January 17, 2017
06:38, July 26, 2017
770 × 575

(730 KB)

Thomas bobo (wall | contribs)
Reverted to version as of 01:15, January 17, 2017
06:38, July 26, 2017
770 × 575

(730 KB)

Thomas bobo (wall | contribs)
Reverted to version as of 01:15, January 17, 2017
06:38, July 26, 2017
770 × 575

(730 KB)

Thomas bobo (wall | contribs)
Reverted to version as of 01:15, January 17, 2017
06:38, July 26, 2017
770 × 575

(730 KB)

Thomas bobo (wall | contribs)
Reverted to version as of 01:15, January 17, 2017
06:38, July 26, 2017
770 × 575

(730 KB)

Thomas bobo (wall | contribs)
Reverted to version as of 01:15, January 17, 2017
06:38, July 26, 2017
770 × 575

(730 KB)

Thomas bobo (wall | contribs)
Reverted to version as of 01:15, January 17, 2017
06:46, July 24, 2017
185 × 139

(44 KB)

Thomas bobo (wall | contribs)
Reverted to version as of 03:54, May 25, 2012
06:46, July 24, 2017
185 × 139

(44 KB)

Thomas bobo (wall | contribs)
Reverted to version as of 03:54, May 25, 2012
06:46, July 24, 2017
185 × 139

(44 KB)

Thomas bobo (wall | contribs)
Reverted to version as of 03:54, May 25, 2012
06:46, July 24, 2017
185 × 139

(44 KB)

Thomas bobo (wall | contribs)
Reverted to version as of 03:54, May 25, 2012
06:46, July 24, 2017
185 × 139

(44 KB)

Thomas bobo (wall | contribs)
Reverted to version as of 03:54, May 25, 2012
06:46, July 24, 2017
185 × 139

(44 KB)

Thomas bobo (wall | contribs)
Reverted to version as of 03:54, May 25, 2012
06:46, July 24, 2017
185 × 139

(44 KB)

Thomas bobo (wall | contribs)
Reverted to version as of 03:54, May 25, 2012
06:46, July 24, 2017
185 × 139

(44 KB)

Thomas bobo (wall | contribs)
Reverted to version as of 03:54, May 25, 2012
06:46, July 24, 2017
185 × 139

(44 KB)

Thomas bobo (wall | contribs)
Reverted to version as of 03:54, May 25, 2012
06:46, July 24, 2017
185 × 139

(44 KB)

Thomas bobo (wall | contribs)
Reverted to version as of 03:54, May 25, 2012
06:46, July 24, 2017
185 × 139

(44 KB)

Thomas bobo (wall | contribs)
Reverted to version as of 03:54, May 25, 2012
06:46, July 24, 2017
185 × 139

(44 KB)

Thomas bobo (wall | contribs)
Reverted to version as of 03:54, May 25, 2012
06:46, July 24, 2017
185 × 139

(44 KB)

Thomas bobo (wall | contribs)
Reverted to version as of 03:54, May 25, 2012
06:46, July 24, 2017
185 × 139

(44 KB)

Thomas bobo (wall | contribs)
Reverted to version as of 03:54, May 25, 2012
06:46, July 24, 2017
185 × 139

(44 KB)

Thomas bobo (wall | contribs)
Reverted to version as of 03:54, May 25, 2012
06:46, July 24, 2017
185 × 139

(44 KB)

Thomas bobo (wall | contribs)
Reverted to version as of 03:54, May 25, 2012
06:46, July 24, 2017
185 × 139

(44 KB)

Thomas bobo (wall | contribs)
Reverted to version as of 03:54, May 25, 2012
06:46, July 24, 2017
185 × 139

(44 KB)

Thomas bobo (wall | contribs)
Reverted to version as of 03:54, May 25, 2012
06:46, July 24, 2017
185 × 139

(44 KB)

Thomas bobo (wall | contribs)
Reverted to version as of 03:54, May 25, 2012
06:46, July 24, 2017
185 × 139

(44 KB)

Thomas bobo (wall | contribs)
Reverted to version as of 03:54, May 25, 2012
06:46, July 24, 2017
185 × 139

(44 KB)

Thomas bobo (wall | contribs)
Reverted to version as of 03:54, May 25, 2012
06:46, July 24, 2017
185 × 139

(44 KB)

Thomas bobo (wall | contribs)
Reverted to version as of 03:54, May 25, 2012
06:46, July 24, 2017
185 × 139

(44 KB)

Thomas bobo (wall | contribs)
Reverted to version as of 03:54, May 25, 2012
06:46, July 24, 2017
185 × 139

(44 KB)

Thomas bobo (wall | contribs)
Reverted to version as of 03:54, May 25, 2012
06:46, July 24, 2017
185 × 139

(44 KB)

Thomas bobo (wall | contribs)
Reverted to version as of 03:54, May 25, 2012
06:46, July 24, 2017
185 × 139

(44 KB)

Thomas bobo (wall | contribs)
Reverted to version as of 03:54, May 25, 2012
06:46, July 24, 2017
185 × 139

(44 KB)

Thomas bobo (wall | contribs)
Reverted to version as of 03:54, May 25, 2012
06:46, July 24, 2017
185 × 139

(44 KB)

Thomas bobo (wall | contribs)
Reverted to version as of 03:54, May 25, 2012
06:46, July 24, 2017
185 × 139

(44 KB)

Thomas bobo (wall | contribs)
Reverted to version as of 03:54, May 25, 2012
01:15, January 17, 2017
770 × 575

(730 KB)

Gursi (wall | contribs)
03:54, May 25, 2012
185 × 139

(44 KB)

DonaldDouglasandToby6 (wall | contribs)
Metadata