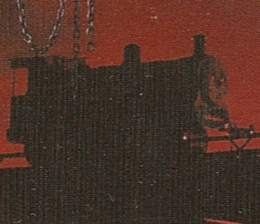 The Ghost Engine
was referenced in a story Edward told the others one Halloween. Thomas later teased Percy, saying Percy thought it was real, but learnt his lesson after remaining behind at the Smelters to take a special load and thinking that some chains touching his cab were ghostly fingers. He then believed that a whistle in the shed was the ghost's lost whistle, forcing him to race out of the smelters, frightened.
Appearances
Edit
Season 13 - Scaredy Engines (does not speak)
Ad blocker interference detected!
Wikia is a free-to-use site that makes money from advertising. We have a modified experience for viewers using ad blockers

Wikia is not accessible if you've made further modifications. Remove the custom ad blocker rule(s) and the page will load as expected.