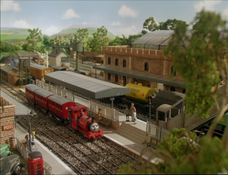 Crovan's Gate
is a town near a narrow gap in the hills, which is only the practicable route in the centre of Sodor from the East. The town's station is a terminus area of the Skarloey Railway and the location of the Works station, where the North Western Railway engines goes for repairs. The town's motto is "Ave amicos cave hostes", which, translated, means "Welcome, friends; beware, enemies".
Appearances
Edit
Ad blocker interference detected!
Wikia is a free-to-use site that makes money from advertising. We have a modified experience for viewers using ad blockers

Wikia is not accessible if you've made further modifications. Remove the custom ad blocker rule(s) and the page will load as expected.