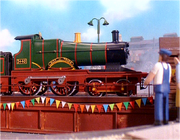 City of Truro
 is a steam engine who was, debatably, the first engine in the world to attain the speed of 100 mph. However, Flying Scotsman was the first steam engine to attain the speed of 100 mph that was officially recorded.
Appearances
Edit
Season 4 - Pop Goes the Diesel (mentioned)
Season 7 - A Close Shave (mentioned)
Ad blocker interference detected!
Wikia is a free-to-use site that makes money from advertising. We have a modified experience for viewers using ad blockers

Wikia is not accessible if you've made further modifications. Remove the custom ad blocker rule(s) and the page will load as expected.