Bertie's Chase



Railway Series Book

Edward the Blue Engine

Previous Episode

Next Episode
Bertie's Chase
is the nineth episode of the
eleventh season
.
Thomas is late but Edward starts anyway. Bertie arrives with Thomas' passengers just as he leaves - Thomas' fireman was ill - and, seeing he has left, chases him to Crosby, but misses him there too. Bertie's driver and the stationmaster make a plan, and they finally catch up with him at Wellsworth, where Bertie explains the whole story to Edward. Edward apologises and leaves.
Characters
Edit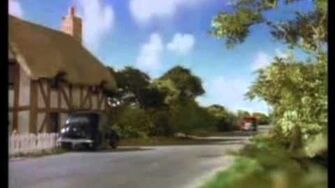 Ad blocker interference detected!
Wikia is a free-to-use site that makes money from advertising. We have a modified experience for viewers using ad blockers

Wikia is not accessible if you've made further modifications. Remove the custom ad blocker rule(s) and the page will load as expected.